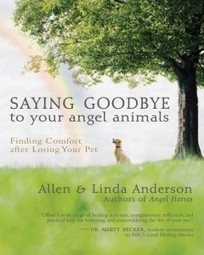 The article, "Book about Pet Loss", by Allen and Linda Anderson states
"Despite the lack of understanding from others, you realize that the life and death of your animal companion must not – will not – be forgotten."
American Institute Health Care Professionals's insight:
It Can Be Hard When Coping With Pet Loss
Pet loss grief can be very difficult to overcome.   Some people do not understand grieving over the loss of a pet.   It is like losing a family member.    Sometimes it is good to read about it and know that there are people that understand your pain.
A new book about pet loss "Saying Goodbye To Your Angel Animals" by Allen and Linda Anderson can help when coping with pet loss.   If you are interested you can pick this book up at your local bookstore or at many online stores.
See on blog.seattlepi.com